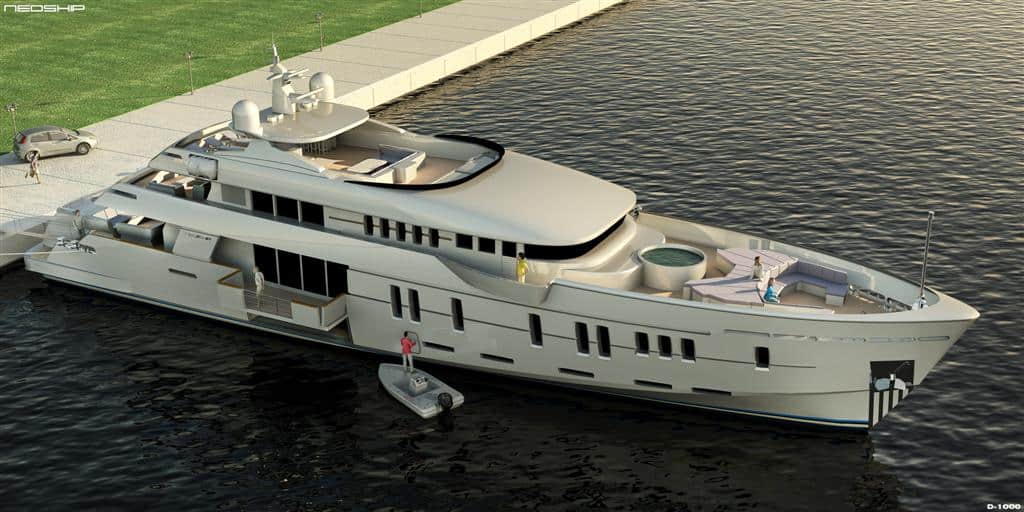 NEDSHIP D -1000, our 47m new concept on a timeless yacht design
Dimensions

Length overall:                                          47.20 m

Length on waterline:                                40,80 m

Beam:                                                             9,26 m

Keel draft:                                                         2,1 m

Maximum draft:                                              2.3 m

Displacement: (%50)                                     280 Tons

Estimated Gross tonnage:                             -/+ 640 GT

Tank capacities

Fuel:                                                                   65.000 litres + Reserve tonnage to be discussed

Sanitary water:                                                 12.000 litres

Fresh water:                                                       12.000 litres

Performance

Total propulsion power:                                   2600 hp

Top speed at light displacement:                    14 Knots

Economical cruising speed:                             11 Knots

Range at economical cruising speed:             2100 Nautical Miles @ 11kn

*Depending on final specification and final fuel capacity and weight

Hull structure

Resin & hardener:                           Hexion or Dow or e qual

E-glass fibre:                                    Selcom (Italy) or equal

Carbon fibre:                                    Aksa/Selcom or equal

PVC core:                                          Diab (Sweden) or equal

GOAL:

The goal of this yacht is to deliver the ultimate and most reliable technology, combined together with a comfort blended to the luxury that is expected from the best European yachts. Our aim is to deliver a yacht which is 100% reliable in all functions, providing maximum safety and comfort.

The Nedship D stands for Displacement, as we believe that more and more of our prospective clients want yachts with low fuel consumption.

The yacht is designed to reach a very smooth and comfortable stay on board, both on cruising and on anchor. By using lightweight materials and a very efficient hull design, the yacht is becoming a very economical yacht with an interesting range of about. 2,100 nautical miles min at 11 knots. These numbers can be increased by adding extra tank volume and optimizing the last build specification indicated from the tank test.

An additional advantage of this weight concept is that the yacht has a low draft, so that she is able to dock or anchor in a wider variety of beautiful bays and marinas.